Joined

18 Nov 2012
Messages

3,668
Reaction score

503
Location
I think the piece is just too narrow to get perfect results whilst marking out,
Bearing in mind a reference needs to be firmly resting on two points, and not see sawing about on one.
Did you do a hinge pivot test of any sort with whatever you're using to establish that is not the case?
This is either more noticable or of lesser importance with a longer reference to set the tool on.
The results you achieved with that saw, appear to be really good to my eyes,
I see no changing of direction which would widen the kerf, which suggests to me it's the
marking out that is the issue.
Look at Derek Cohen's posts like this one
One can see exactly what I mean in one particular photo.
So, you dovetailed 24 drawers (involving hogging out the waste with a router, a technique you'd never done before). And throughout that entire process just one slip would have been both catastrophic and completely irretrievable, as you'd chosen the high risk route of wrapped grain across the...
www.ukworkshop.co.uk
Taken from the above article from Derek.....
"Turning the board over, and repeating the manoeuvre, the result is a tent ...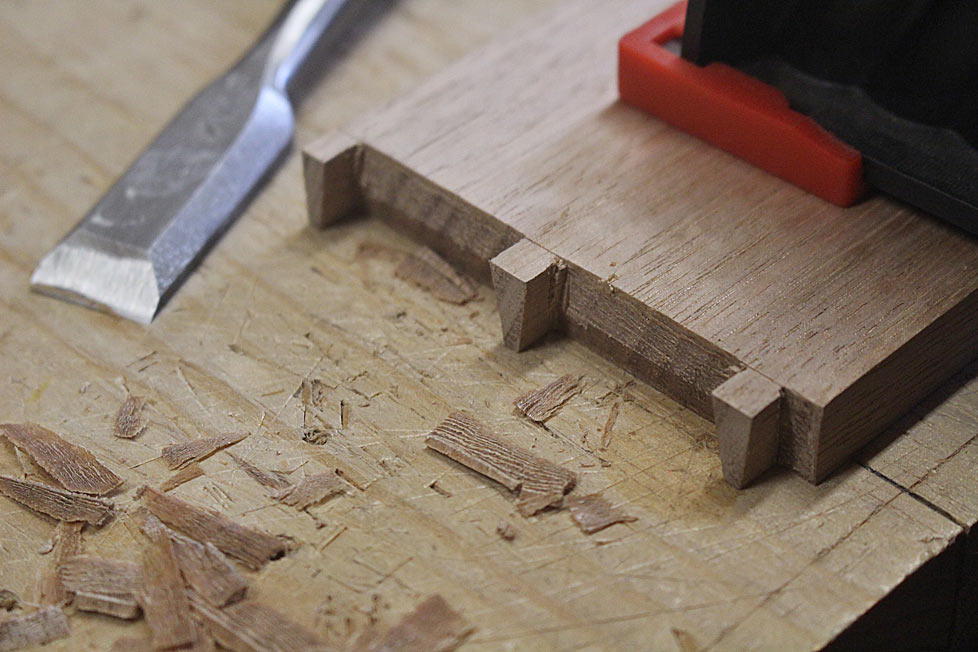 "
Say you look at Peter Sefton paring shoulders from the edge and not from the face afterwards gradually lowering the tent down afterwards.
The iroko I use doesn't tolerate any sort of vertical chiseling very well,
not to mention what it would be like to undercut the work!
I'd never do the ends like some show, maybe pushed for time I can see the
reasons between the rest.
And the waste always needs somewhere to escape, as the chisel is not a drill
which pulls the chips upwards
Might be a bit slower doing this method, but is more guaranteed.
David W made an article or video of the chisels he made, which vastly reduces the chisel diving into the work, as there is an intentional slight curvature to them so they can be steered out of the cut, same thinking.
Not that those would help you there, as those are thin components you are working on.
Hope that helps