Seeing all the fun that people have had making their own workshops, I've started on mine!
Variously described as a shed/workshop/sort-of garden office/man cave (depending on who I'm talking to), I want it to be a woodworking workshop, but look good enough to be a smart home office (if/when we sell in the future). Broadly based on Mike's and Steve's workshops (except for the foundations).
This is what I'm aiming for:
Spec:
4m x 3m, and 2.5m tall;
Concrete piers (extending below the frost line);
50mm sheet polystyrene under the suspended ply flooring;
120mm Kingspan-equivalent insulation (got an extremely good deal from Seconds & Co) in the walls;
100mm loft roll insulation under the...
EPDM Complete Firestorm single-pitched roof;
British-grown Western Red Cedar cladding (got a good deal from Code 6 Timber in Somerset);
Double-glazed French doors.
Timber used/ordered:
Floor joists and bearers: 50x150mm C16 Treated, at 600mm centres, with joist hangers for the joists;
Floor: 18mm shuttering ply (will probably put 22mm floorboards over it at some point to make it more rigid);
Front/Rear Floor/Top Plates & Studs: 75x100mm C16, at 600mm centres;
Sides Floor/Top Plates & Studs & all noggins : 47x100mm C16;
Diagonal bracing for studs: 47x100mm C16; (may not strictly be necessary due to the sheathing);
Lintel over doors: 47x150mm C16 doubled up (so 94x150mm to fit in the 100mm stud work);
OSB sheathing: 9mm;
Rafters: 47x150mm at 600mm centres.
A vast quantity of lath to hold the floor insulation in place, and pad out the 95mm studwork to take 120mm insulation (one was ordered before the other)!
I was thinking of making it bigger and taller (concrete slab, around 4m x 5m, 3m high double-pitched roof) and even applied for planning permission, but that was vetoed by my darling wife when she thought it was too much effort for me (we have a young family, and getting concrete or large amounts of aggregates to the back garden is tricky). My father-in-law's a structural engineer, so that helped with the specs!
I know that nothing actually happens without photos, so here goes...
Last year (note the 5m tall Cupressus hedge at the back):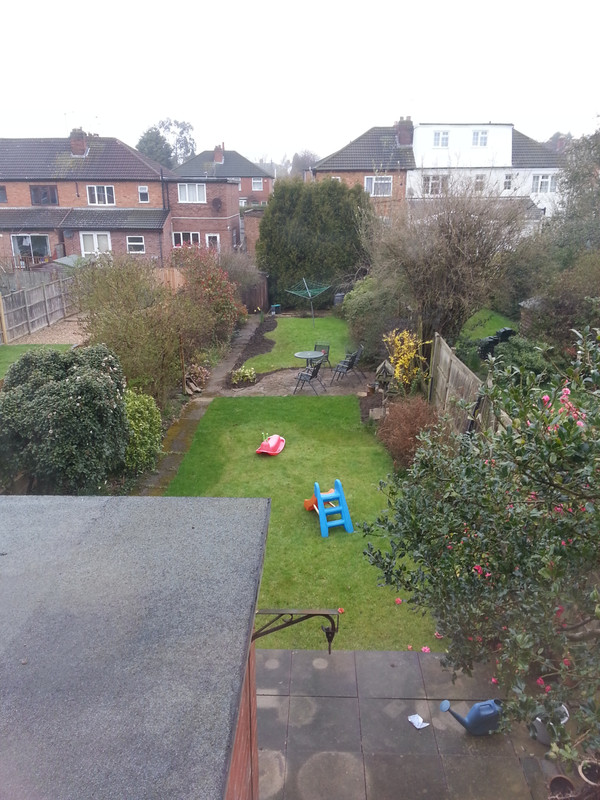 Destruction of the rainforest: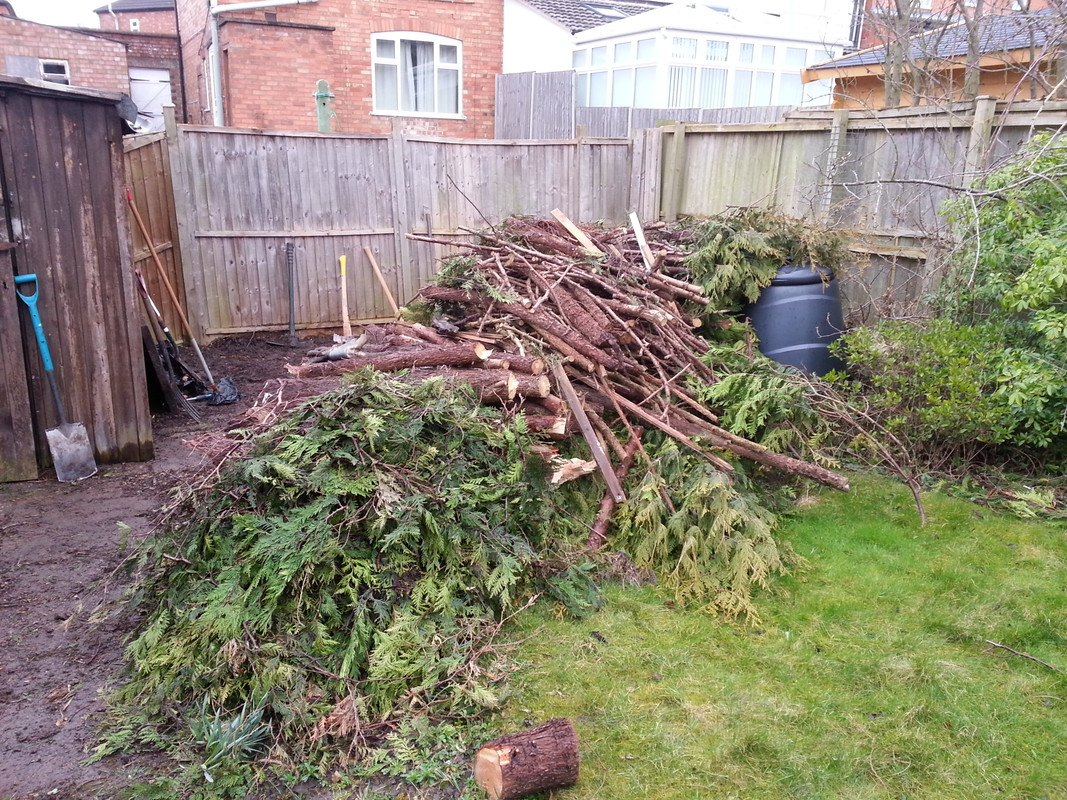 Those stumps were hard to shift: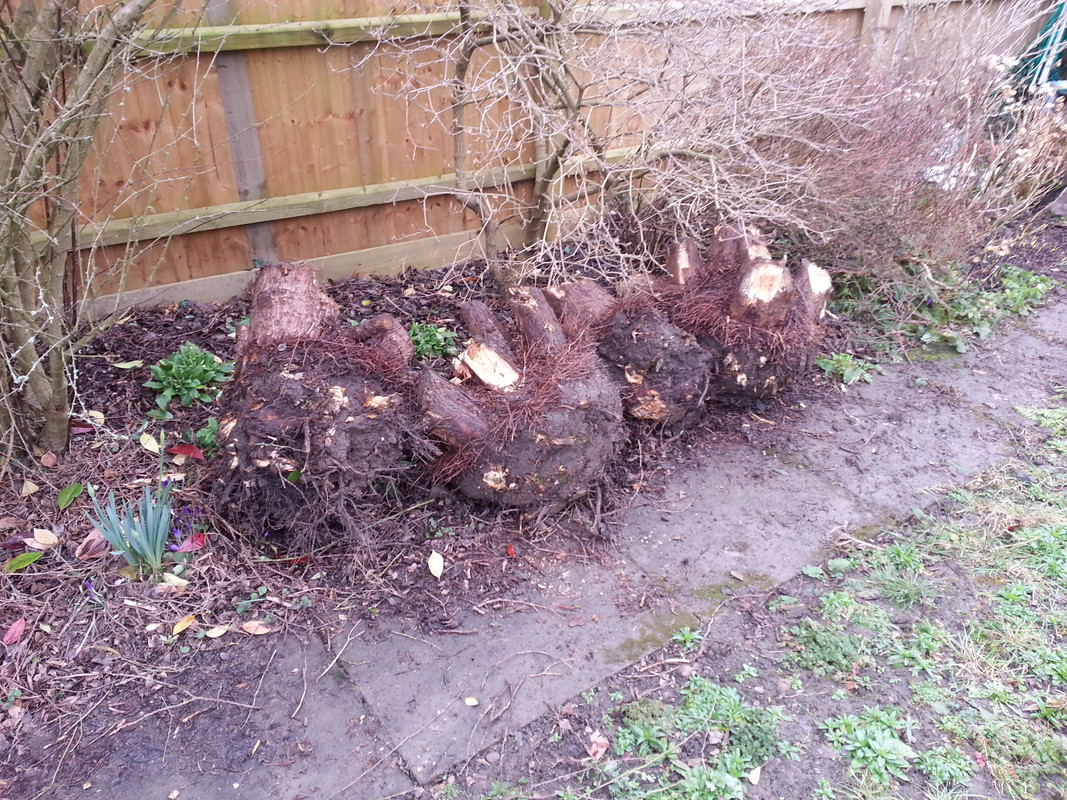 Current progress:
Using a post auger (150mm wide, 1 metre long corkscrew) I made the holes, filled the bottom with some hardcore, tamped it down, inserted 150mm diameter 500mm long ventilation pipe levelled up with each other, and am filling them with concrete. They have a 500mm long metal strap inserted into the concrete to screw the base timbers to (and try to act as rebar).
I have the long Easter weekend without the family to crack on with as much as possible, and a couple of friends coming round at different times - please wish me luck. I can do basic DIY, building a couple of built-in cupboards, but have never taken on anything this big!
Questions
, if anyone can help please. I've got some DG French doors already, and some small DG windows, and some long DG sealed units (without frames).
Should the studwork be made so the holes for the doors and windows are exactly to fit, or should I leave space for cladding trim to go around them?
Does anyone have links to diagrams or WIPs that do this (I tried looking again on Steve's monster thread, and couldn't see any obvious examples)?
Does anyone have links to diagrams or WIPs that make timber frames for sealed units (to be done in the future)?
For now, what kind of gap should I leave for the sealed units' frames?
Many thanks for reading, will try to update regularly!