- 22 Apr 2018, 22:44
#1219975
Hello everyone,

We are just about to buy a new house (which needs a bit of work) with a medium size garden at the back and an old shed which is falling apart.
One priority is the house but also the new workshop. So my plan is take the current shed to the tip and build a new one. There is enough space to build a big-ish one, about 20-30sqm one. I've never done anything similar before so my first idea was to buy a heavy duty pressure treated ready build shed (around £3k) but then I came across Mike's shed build and absolutely love it and I think I could build one. What would be a ball park figure cost of one (about 4m x 7m)? I was thinking of doing a sloping roof to one side rather than a pitched one to get extra space on one side but it has to be below 4m at the highest point - I don't know if that's a good idea?
I was thinking of installing a chip extractor on the outside behind the shed for health reasons but using a dust extractor with the smaller tools inside the shed (currently I have an M class Metabo vac)
I've got lots of questions but I'm hoping I can get some of the answers from current threads and not bore everyone to death.

I'm trying to attach photos of the old sad shed but struggling
By
MikeG.
- 23 Apr 2018, 06:21
- 23 Apr 2018, 06:21
#1219984
I think mine cost a little over £2500, from memory, so just over £80/sq m. Building a mono-pitch roof will save a chunk of this, but you lose some useful storage space, and they just don't look as attractive (in my view). Open an account (if you don't have one) with one or two local builders merchants. You get some pretty hefty discounts with an account, and if you are building a house these will save a fortune.
- 23 Apr 2018, 18:52
#1220090
Thank you for your quick reply Mike. That's a good price.
I have an account with Jewson but not much of a discount yet.
I've been reading on about the planning permission rules and I'm confused when I'm allowed a 4m high shed and when a 2.5m one. I've been looking at this source as I'm in Scotland but still unsure
https://beta.gov.scot/publications/guidance-householder-permitted-development-rights-9781780456836/pages/6/
Can you help and clarify that? I will be putting this shed around 1m from the neighbours fence. Can it be 4m high or only 2.5m?
Can't wait for it all to start. I've been working out of a tiny shed, which in reality was only to keep my tools and materials and I had to do all the work outside weather permitting.
By
MikeG.
- 03 May 2018, 20:33
- 03 May 2018, 20:33
#1221818
I can't comment on the situation in Scotland. In England and Wales the height thing is dependent on the roof type.
- 04 May 2018, 08:39
#1221856
Design what you want and get planning permission. I had to as I'm in a conservatation area (Aberdeen based) but it was such an easy process and only a couple of hundred quid and meant I didn't have to worry about someone complaining and then a visit from planning saying I hadn't quite met the conditions for permitted development.

That said the Aberdeen city council website has some great graphics about what constitutes permitted development. Which I'm sure will be the same as the rest of Scotland.

Cheers

Fitz.
- 05 May 2018, 13:30
#1222000
Thanks guys.

My problem is time. Just like with Mike's original thread I also need to have the workshop up asap in order to work on the house and get my tools and materials out of paid storage. We are finalising the mortgage and should be ready to move in very soon. Also a 30 sq m workshop is more than enough for my needs so if I do it right I won't need a planning permission
Next time I'm there I will take proper photos and measurements so I can plan the workshop build. I will most likely be going Mike's way with a timber framed workshop but will need advice on roof pitch and barn door design
- 05 May 2018, 16:43
#1222018
Kris.

The link you posted has the same graphics that I recall. My take was you can have a structure up to 4m tall but any part within 1m of a boundary has to be less than 2.5m high.

My design for a 'pent' shed, sloping flat roof from front to back, was to achieve this by having the front edge at 3m then sloped at an angle to be 2.5m at 1m from the boundary. The rear of the shed is 50cm from the boundary wall for ventilation and access.

I posted my build on here with a bunch of pictures that should make it clear what I mean by pent shed. The build post also has all my costs for a similar size building to what you are proposing. I could not however use a concrete base due to building in the root zone of protected trees.

Fitz.
By
MikeG.
- 05 May 2018, 17:11
- 05 May 2018, 17:11
#1222021
Fitzroy wrote:Kris.

The link you posted has the same graphics that I recall. My take was you can have a structure up to 4m tall but any part within 1m of a boundary has to be less than 2.5m high..........
Ooooh, careful! That really isn't the case, unless you're in Scotland where it is possible they have different rules (I simply don't know). Here's the wording:
No outbuilding on land forward of a wall forming the principal elevation.
Outbuildings and garages to be single storey with maximum eaves height of 2.5 metres and maximum overall height of four metres with a dual pitched roof or three metres for any other roof.
Maximum height of 2.5 metres in the case of a building, enclosure or container within two metres of a boundary of the curtilage of the dwellinghouse.
No verandas, balconies or raised platforms.
No more than half the area of land around the "original house"* would be covered by additions or other buildings.
In National Parks, the Broads, Areas of Outstanding Natural Beauty and World Heritage Sites the maximum area to be covered by buildings, enclosures, containers and pools more than 20 metres from house to be limited to 10 square metres.
On designated land* buildings, enclosures, containers and pools at the side of properties will require planning permission.
Within the curtilage of listed buildings any outbuilding will require planning permission.

From here.
- 07 May 2018, 19:13
#1222284
Yes, I am in Scotland and my understanding of the Planning department was the same as you Fitzroy. However I also need to keep in mind Building Regs so my workshop would need to be just over 1 m from my neighbours fence to comply or I would need to build from something non combustable if it was less than that. I'm fine with having it further out.
In a minute I will post pics and my plans of the new place so you can feel sorry for me for the amount of work I'm about to take on. Stay tuned
- 07 May 2018, 19:26
#1222285
Right, here we go. Here is the current state of the place. That shed in the pictures is falling apart so I will need to dismantle it first. The new workshop will be placed in the same spot, slightly back towards the back fence.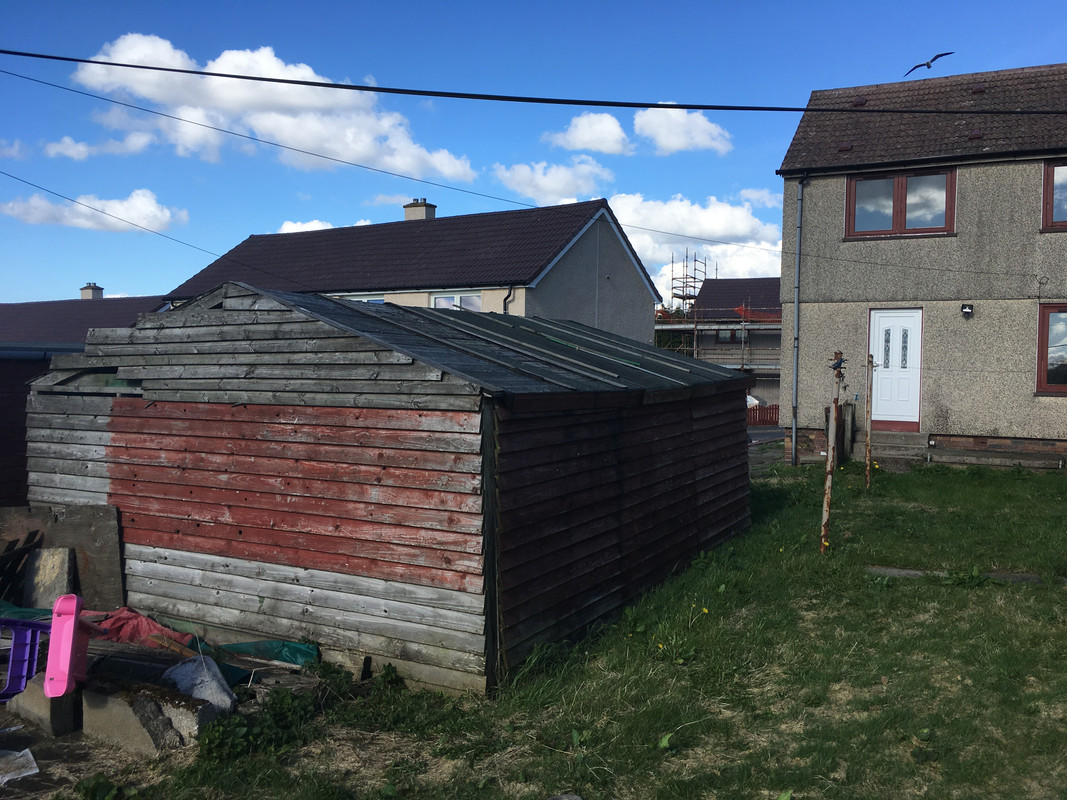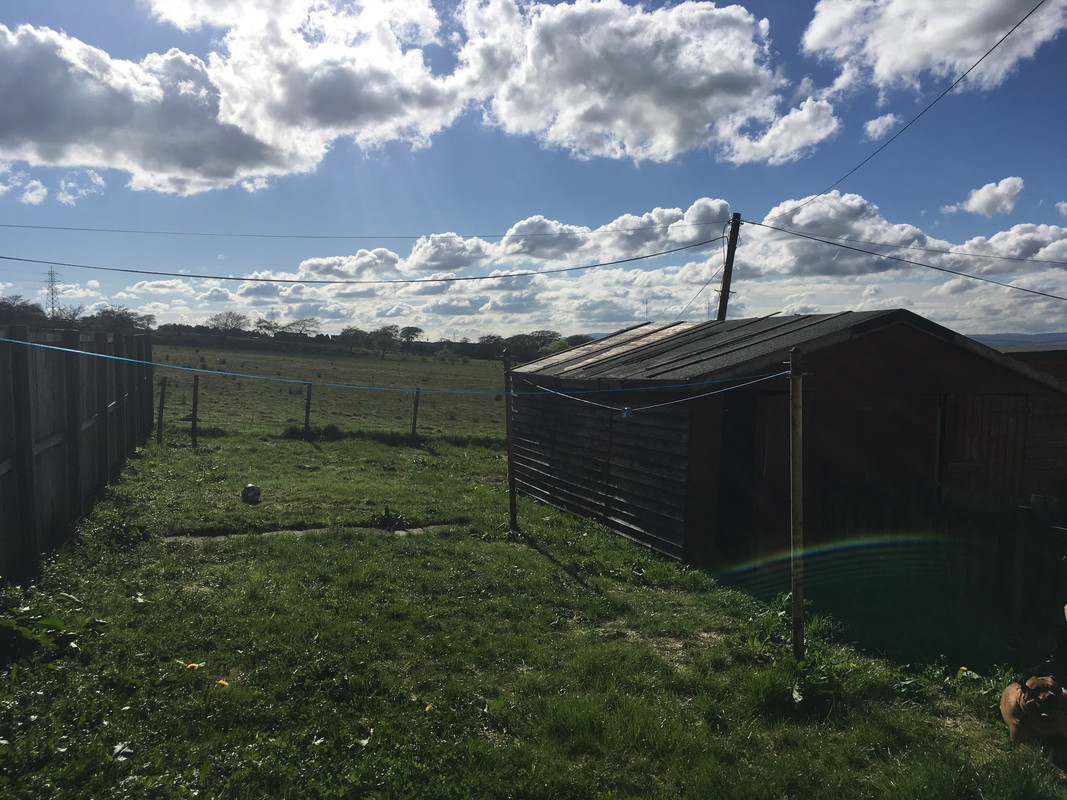 This is the back behind the shed with lots of rubbish to get rid of but the views are not too bad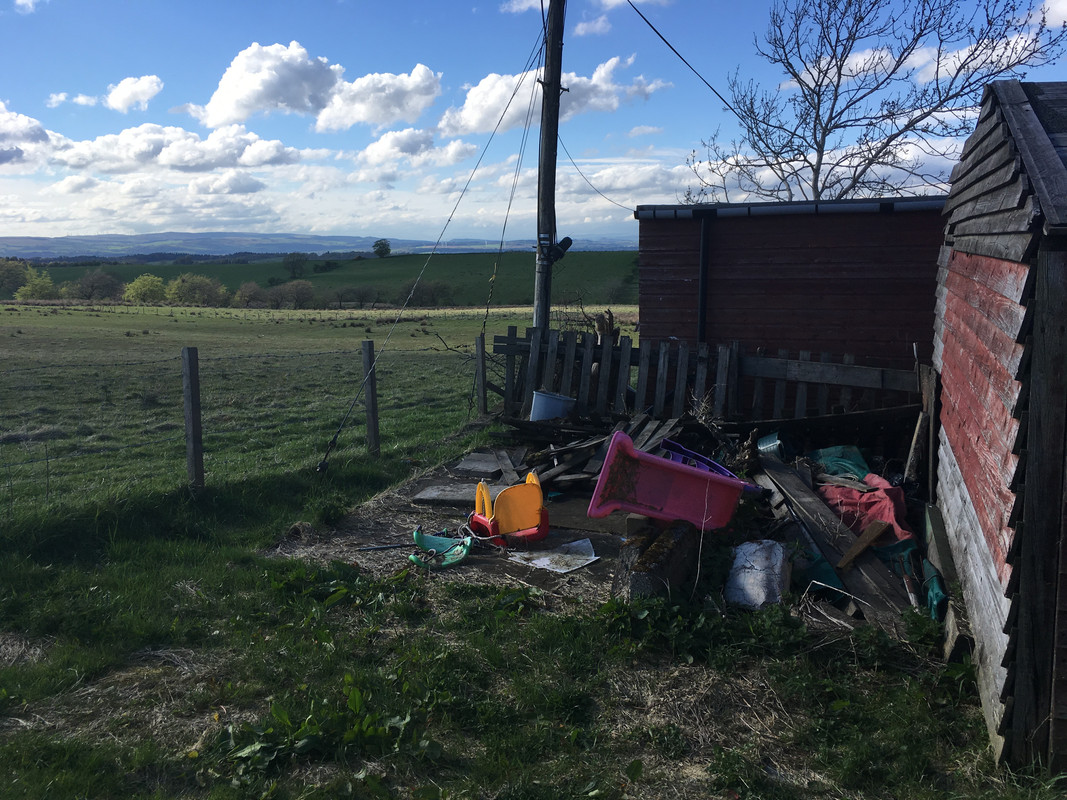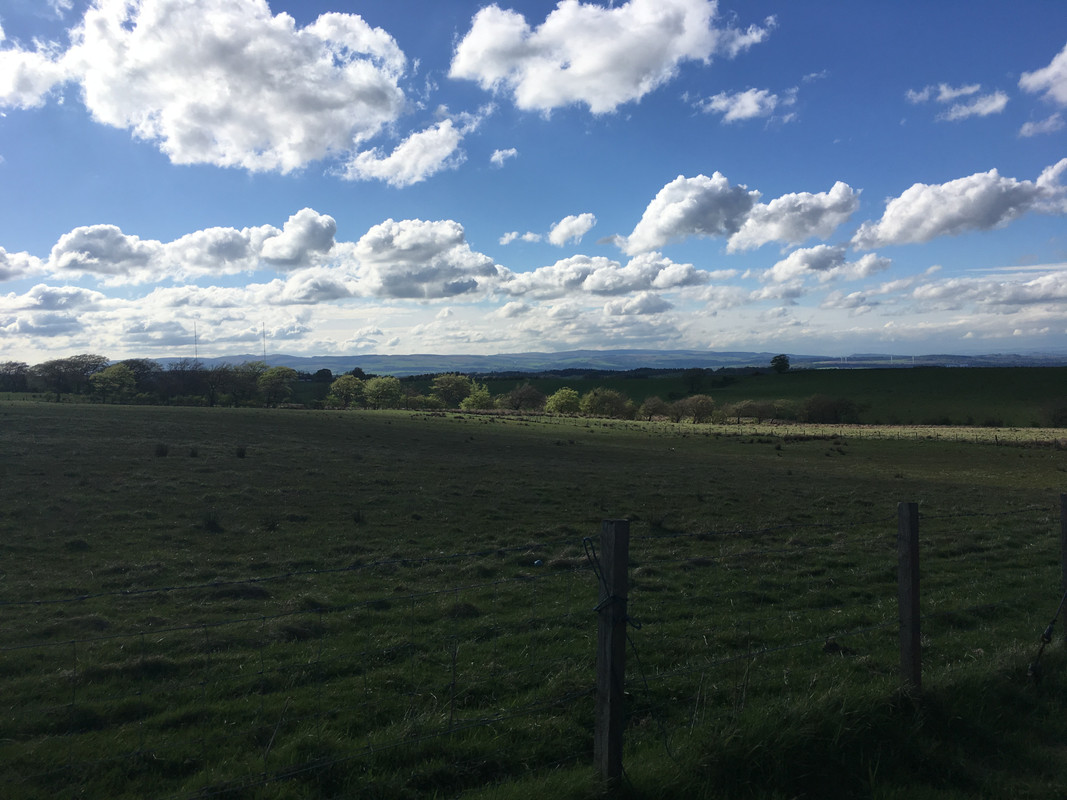 Here are my plans for the new workshop. THE HEIGHT SHOULD BE AROUND 3500-4000 (NOT 4500). The reason I'm not sure of the height yet is that there is a phone cable going from the post to the house at around 3500mm height and I'm not sure if I will be able to squeeze that extra 500mm. I will check that before proceeding with the build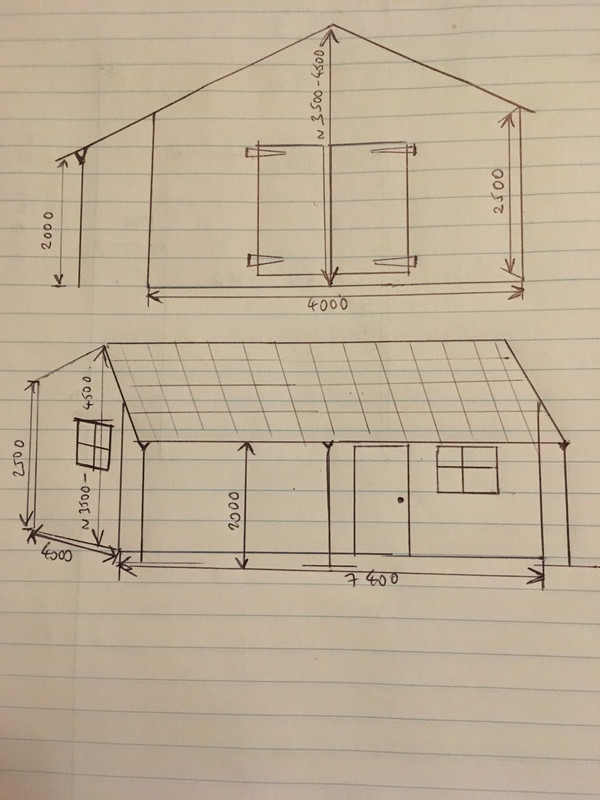 - 07 May 2018, 19:49
#1222290
Go to your planning department and ask them if you need planning permission. My experience is that they actually WANT to be of help wherever they can be, whilst keeping the cowboys at bay. Which is how it should be, I reckon.
Then make friends with your BCO. Now I do know people who have done projects where the BCO has been a PITA, and simply wrong in his interpretation of the rules. But my own experience was that he wanted to help as much as he could to make sure that my build did not go awry. I remember that one day he turned up and simply laughed.
"What's so funny?", I asked.
"Nothing", he said, "It's just that this is a shed and I go to see houses that are not being as well-built as this is."
Court your friends of influence, do the job properly and all shall be well.
- 09 May 2018, 19:15
#1222613
Is anyone in the know about roofing on here? I'm puzzled by all the different kinds of roofing tiles, vents, etc.
I will be fitting a new roof on the house and another on the workshop. Workshop first. The land sits on a hill with a lot of wind coming in from the fields. Would I need roof vents or would the breather membrane be enough? Then which tiles would be best - S tiles or plain tiles?
By
MikeG.
- 09 May 2018, 19:51
- 09 May 2018, 19:51
#1222622
The answer to all of your questions is "it depends". Sorry.

Choice of roof tile: what's the local vernacular? How old is your house and its neighbours. What is the roof pitch? What is your budget?

Vented ridge/ roof tiles: what sort of tiles are you having? Does the ceiling line follow the underside of the rafters, or the underside of the joists? Where is the insulation? What shape is the roof? What functions happen in the building?

"S tiles"......do you mean pantiles?