- 24 Apr 2018, 10:35
#1220220
Lynndy and I were in Auckland, New Zealand recently for the wedding of her niece. We stayed with her brother and his wife. They have a wonderful home with some nice examples of arts and crafts furniture, one of which was an apothecary chest. I really love these pieces, and Lynndy especially has wanted one forever. So the order was placed and a spot lined up in the entrance hall.
The design was mostly worked out in idle musing, and then I drew it up on sheets of 6mm MDF (I like this since the sheets end up as a story board and may be stored away more easily if needed at a later date).
The orientation is vertical, rather than typically horizontal, more along the lines of a Krenov-styled cabinet. I've never built a Krenov-styled cabinet and, as far as I am aware, he never built an apothecary chest!
In other words, this is a chest on a stand. As an aside, I am not enamoured with the spindly legs of Krenov designs, and something with substance is needed. More on this at a later date.
The chest will contain 24 drawers, in 6 rows (so 4 drawers across and 6 rows down) …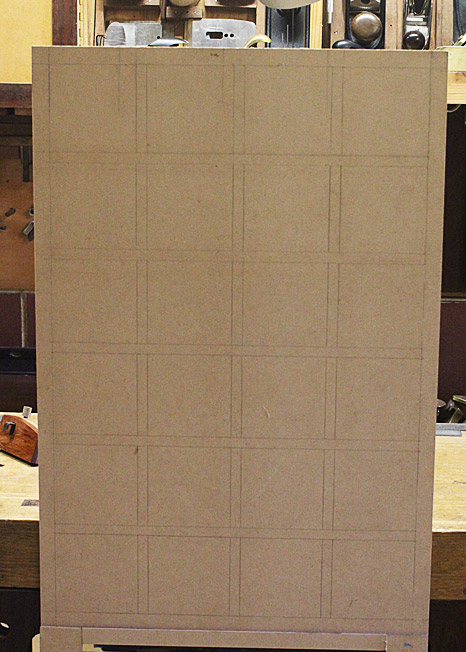 What has changed in the drawing above is the rows will be made to accentuate the vertical rather than the horizontal (by running the blades/dividers down first). This is more work, but is should create a different perspective.
I have never seen a curved apothecary chest before, so this may be the first one …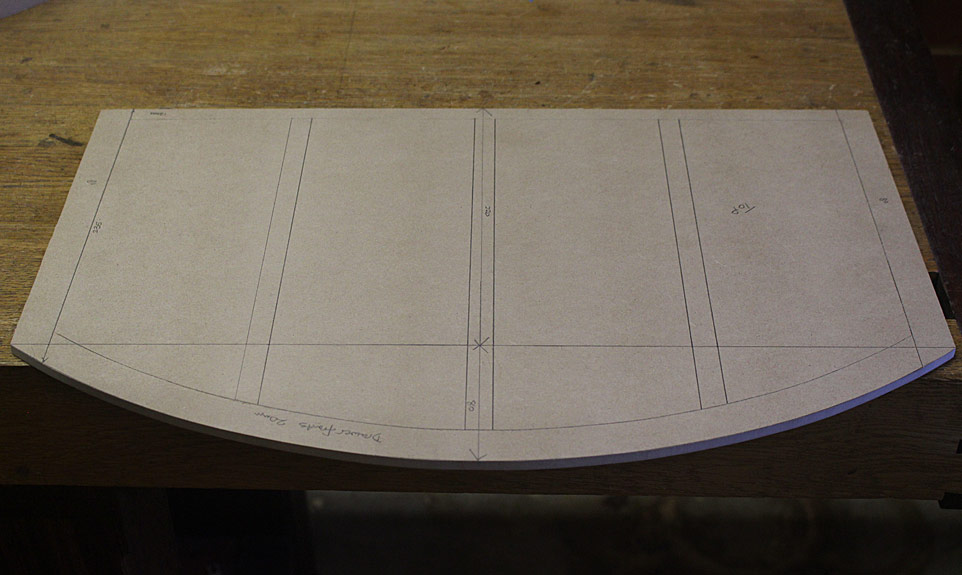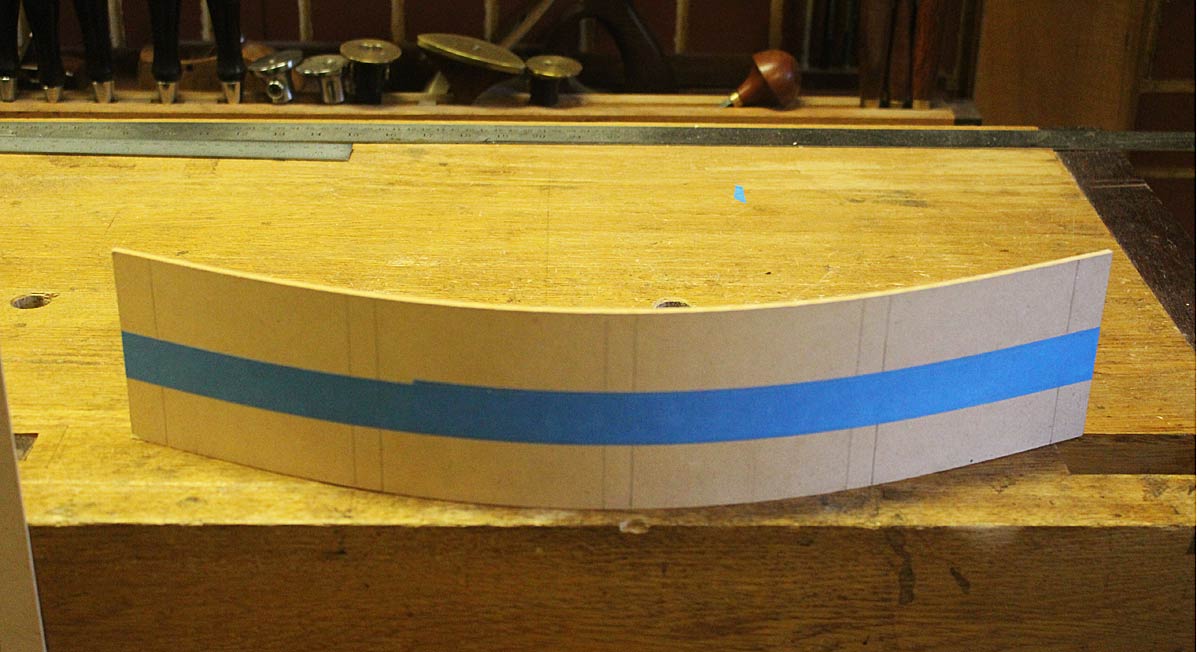 The wood is another first for me – black walnut from the USA. My local timber guy had a stack of 1" and 2" thick boards, all about 11-12" wide.
(For those who see metric measurements on the plans and here is mentioned imperial sizing, be aware that this is my common practice. The jointer-planer/thicknesser I have is European, and metric. The hand tools, such as a plough plane, are imperial).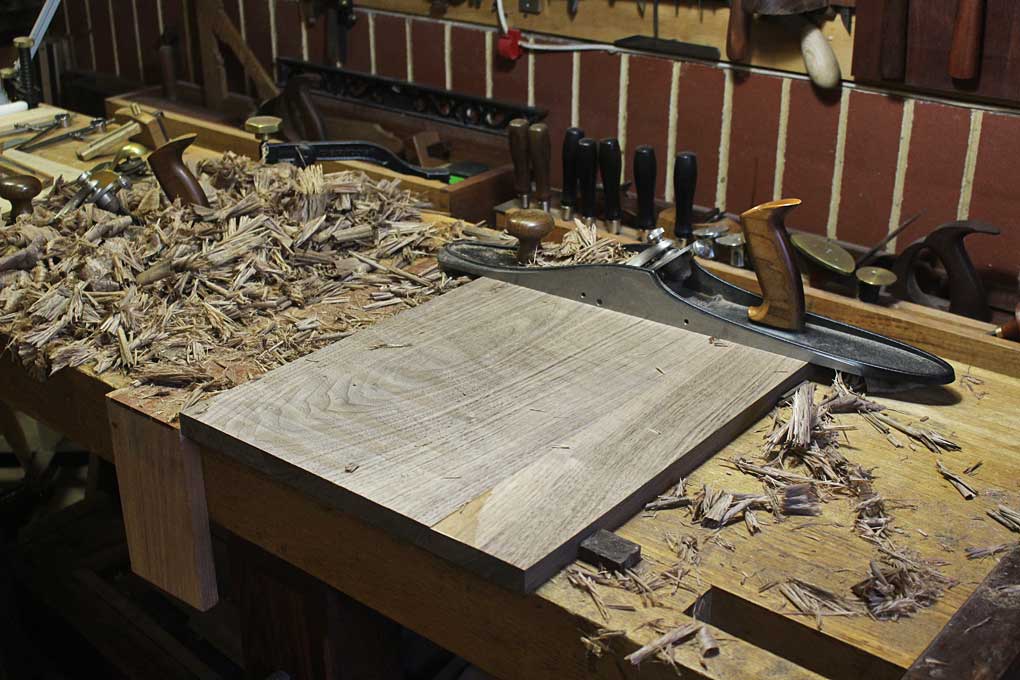 The boards are thicknessed a little oversize, glued up, and then taken to final dimension with hand planes.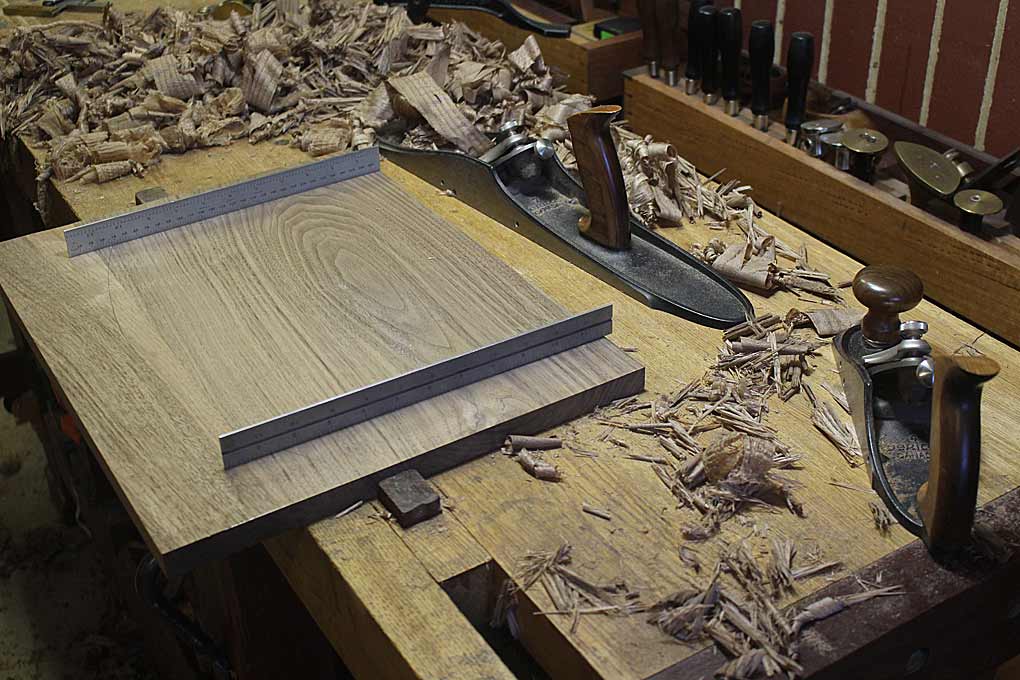 The walnut is so easy to plane. I get why so many rave about working with it.
Don't you love it when the carcase parts are done. These are all 20mm thick …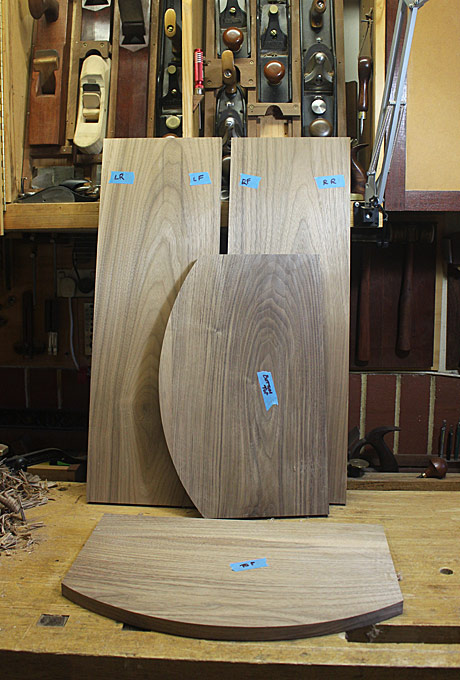 Starting to put it together
Starting from the bottom up, the side panels are left a little long as they will need to be given a curved bevel to meld with the bottom panel …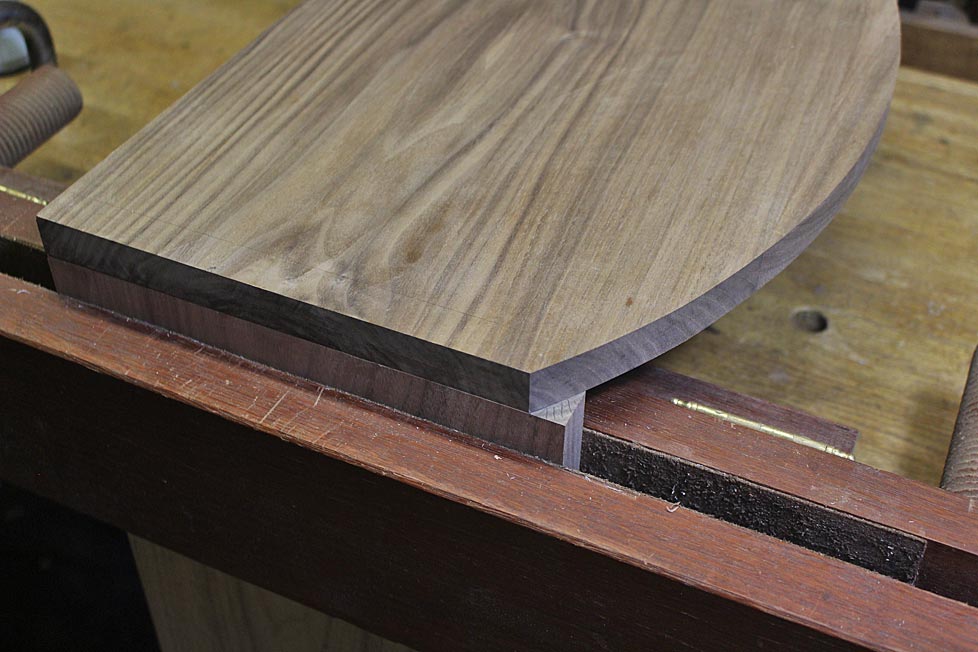 The dovetails are in the ratio of 6:1 – I felt the slightly extra wider base would add a little more authority.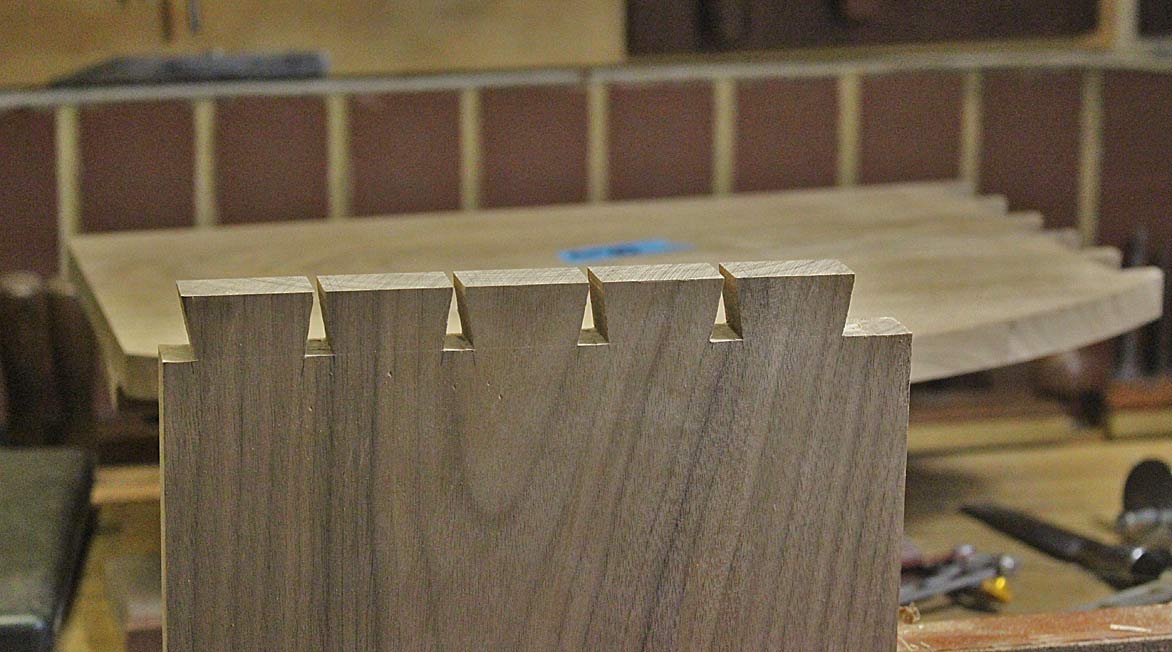 Here's the first completed corner. It is important that the joints are tight (obviously) but also that they moved apart readily, since the cabinet carcase will be pulled apart, put together, and pulled apart many times as the drawer blades are measured and fitted ...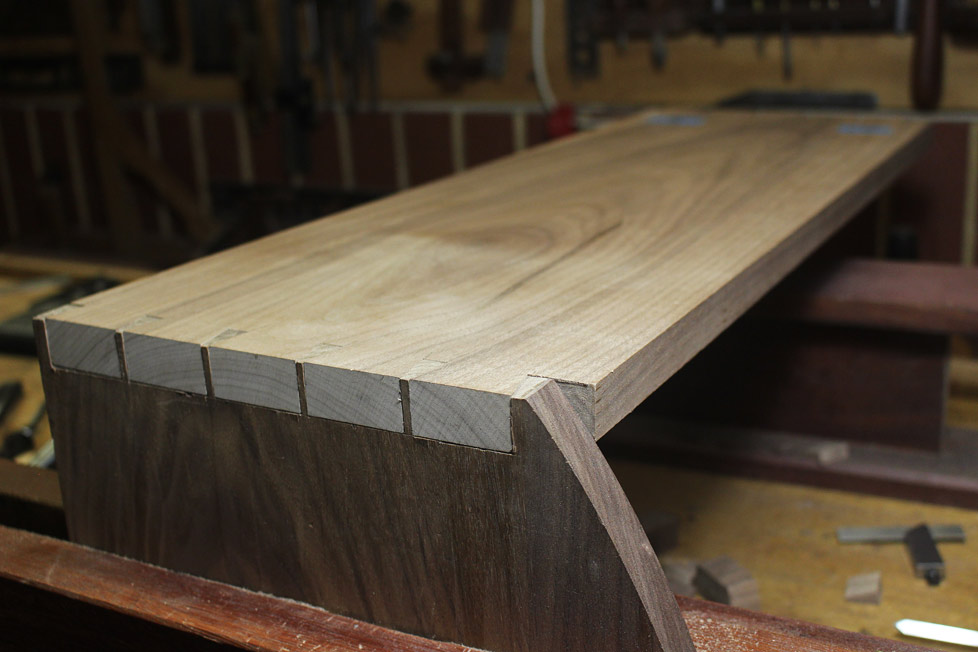 Note, also, the area that will need to be bevelled away. This is marked.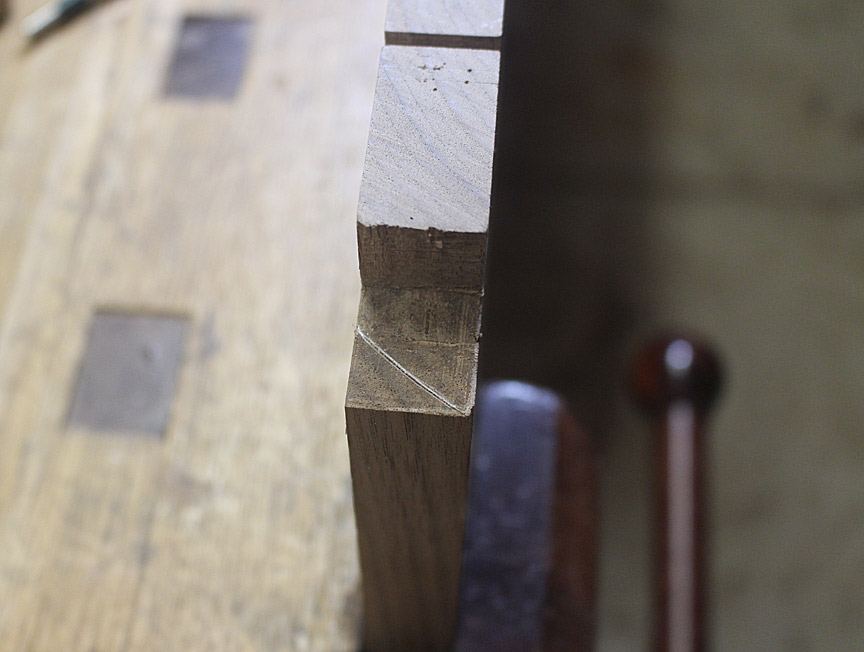 Now the dimension of the bevel is taken the length of the panel …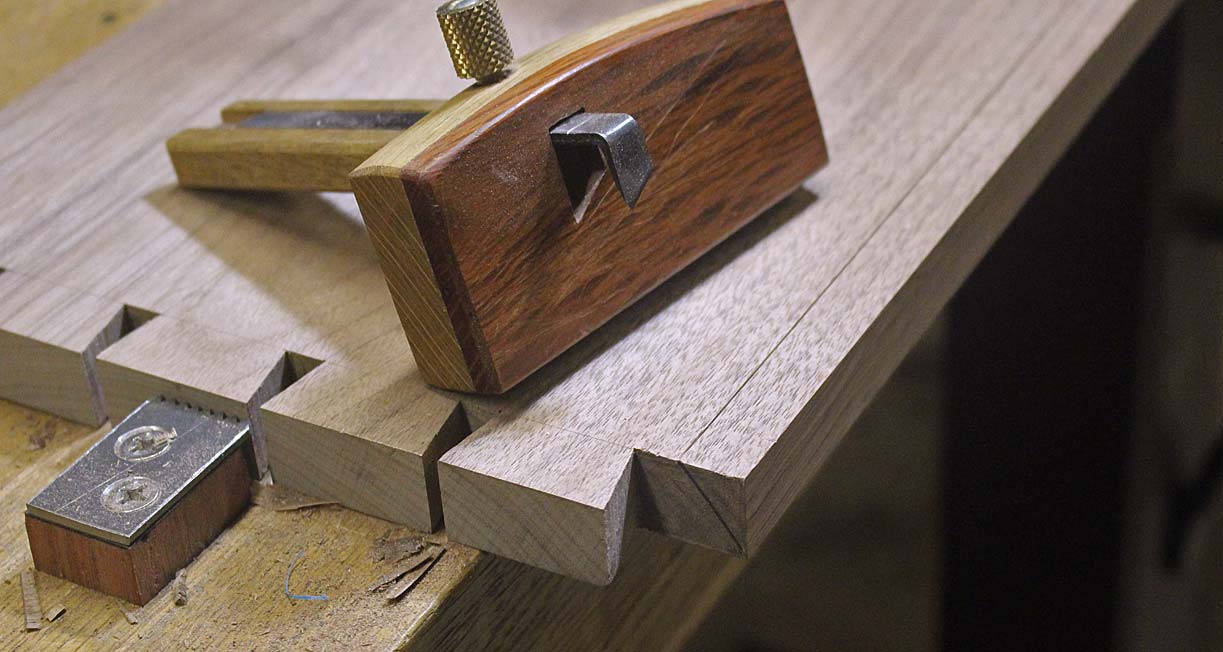 I made up a template of the curve by grinding a piece of scrap steel (chosen because it was lying around) …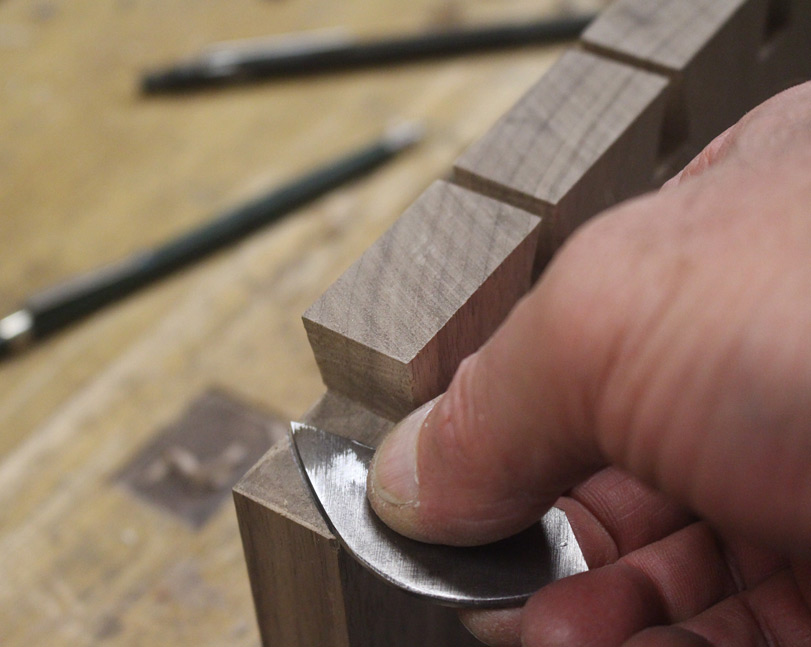 … and the curve is transferred to the other end of the panel.
The waste is planed away with, firstly, a jack plane (shop made) …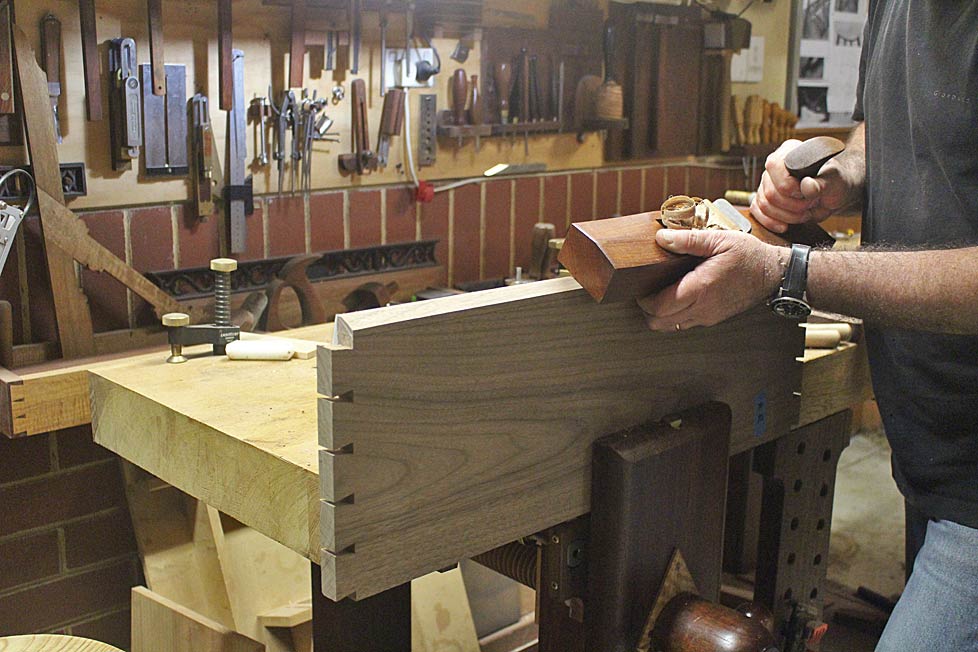 ... and then a modified HNT Gordon trying plane …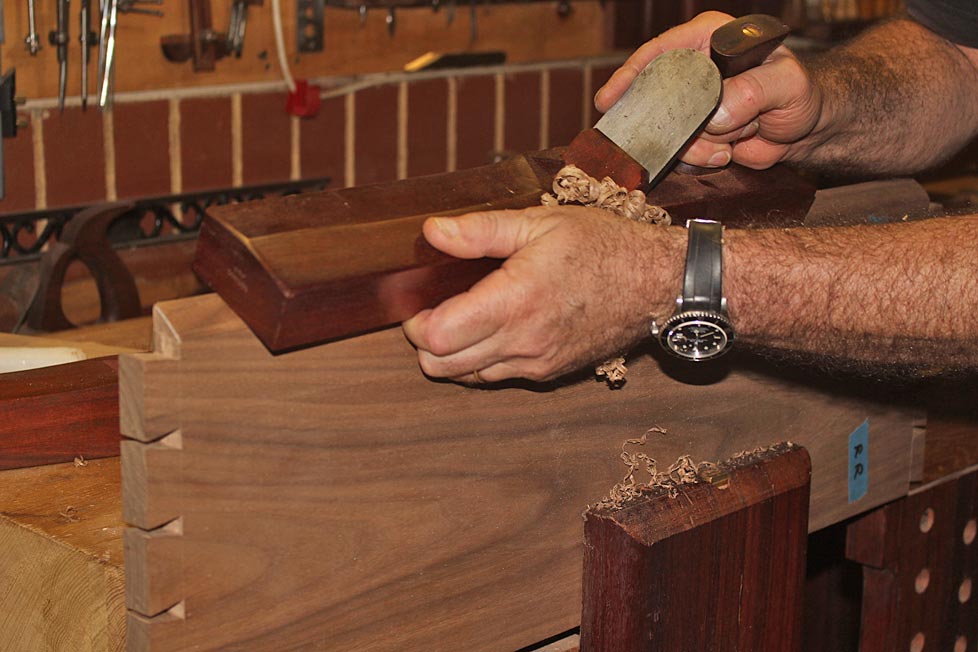 The reason for the trying plane is to keep the sides straight. A jointer plane could have substituted.
The final step here is to smooth and fair the surface with a HNT Gordon mini smoother …
Finally, we get to complete the basic carcase (the flash makes the walnut look light, but it is dark in tone). the dimensions are 700mm high and 300mm deep (at the centre) …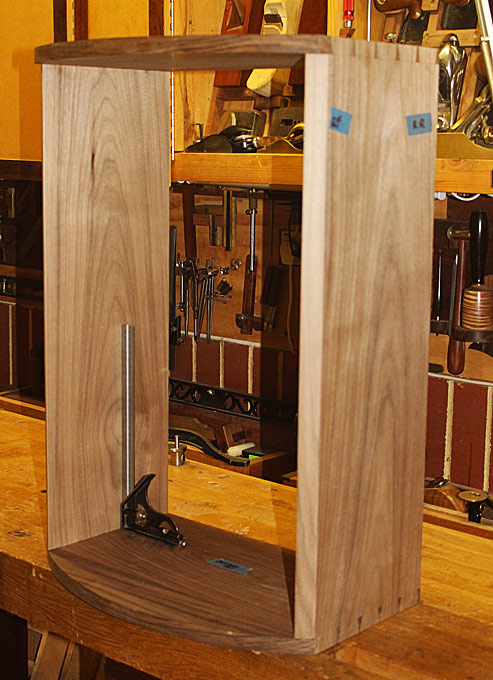 Starting the vertical drawer blades/dividers
These are made with merbau as a secondary wood, with walnut facing …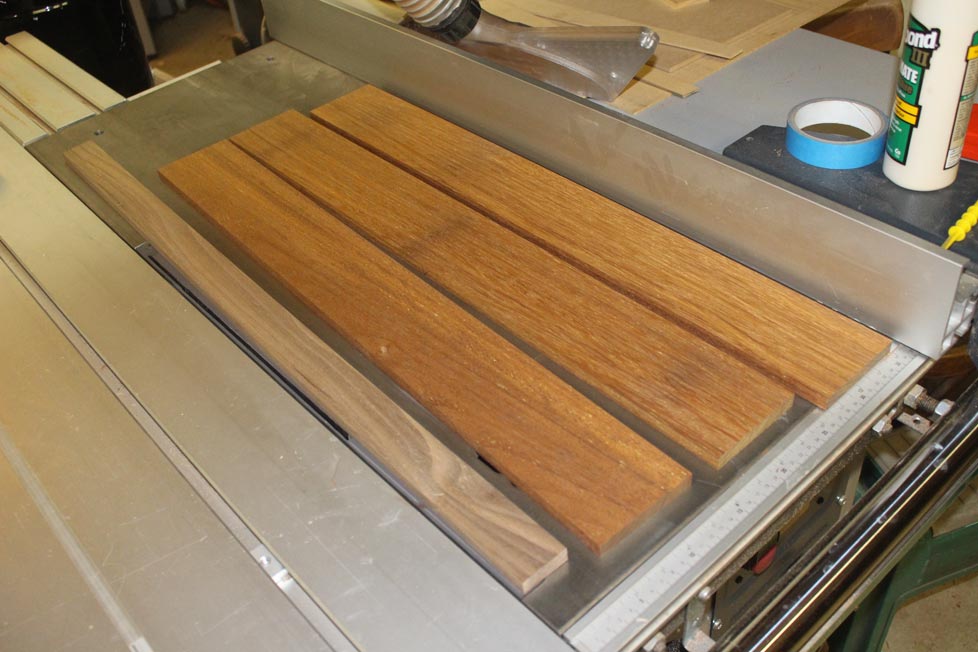 Merbau is from northern Queensland (some is imported from Papua New Guinea). It is hard and heavy, and typically used in Oz for flooring or outdoor furniture. I am using it because it is cheap and hard. As cheap as pine and as dense and wear-resistant as jarrah.
The boards are glued together and bound with blue tape ..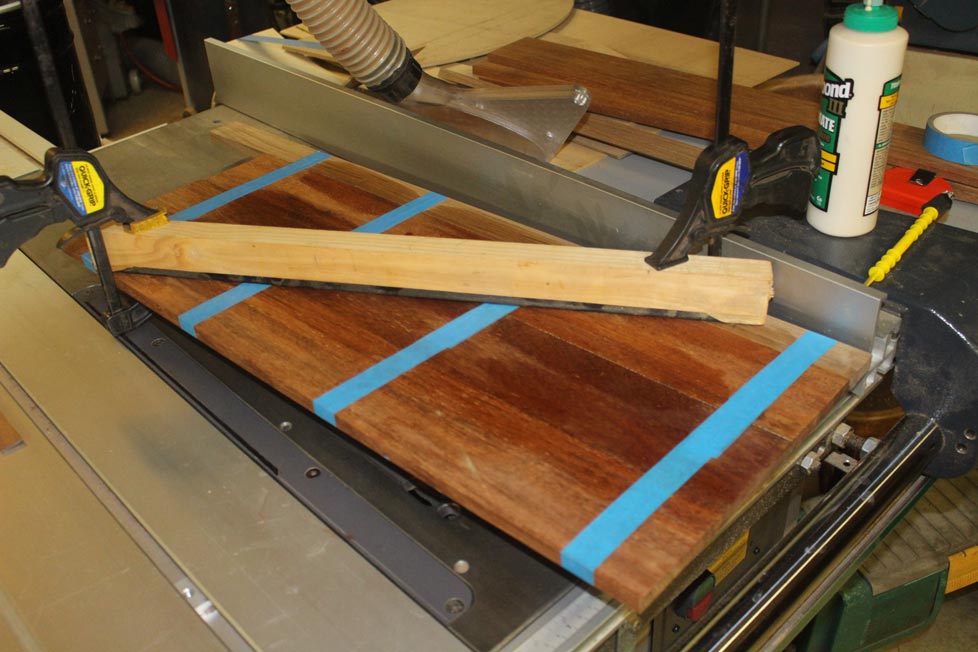 Three vertical dividers for now …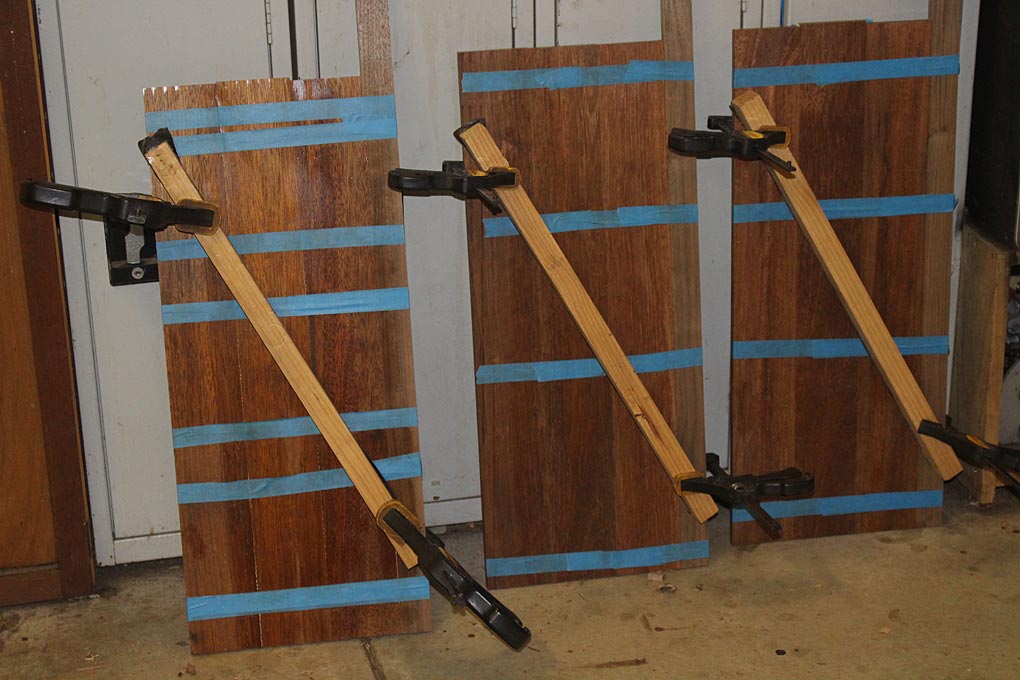 As before, they are also slightly oversize and will be planed to dimension to fit into 12mm wide dados.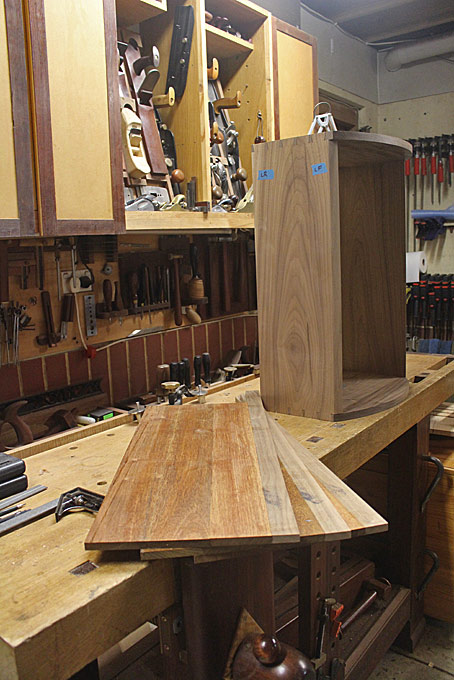 More later.
Regards from Perth
Derek
By
dzj
- 24 Apr 2018, 12:37
- 24 Apr 2018, 12:37
#1220243
Is Arts & Crafts furniture in your part of the world often made from non Oak material?
I've read that in the UK, the Cotswald Furniture School often used local timber, but that was more of an exception than a general trend.
- 24 Apr 2018, 14:05
#1220258
I would imagine that local furniture uses local timbers. Especially non-oak timbers, since oak - European, UK, USA-white, etc - is not indigenous to Australia. The closest we have is Tasmanian Oak, which is actually a eucalyptus. If you squint with one eye, stand on one leg, and hop three times, it sort of looks oak-like.
Regards from Perth
Derek
- 24 Apr 2018, 18:21
#1220289
Derek Cohen (Perth, Oz) wrote:For those who see metric measurements on the plans and here is mentioned imperial sizing, be aware that this is my common practice. The jointer-planer/thicknesser I have is European, and metric. The hand tools, such as a plough plane, are imperial.
Derek, don't you use a Felder? If so, buried deep in the manual's fine print, are the instructions for flipping the digital readouts between metric and imperial.
Cracking project by the way!
- 25 Apr 2018, 05:13
#1220339
Hi Custard

Thanks for the suggestion. I had not thought about a possible conversion in the gauge.

I have Hammer gear (by Felder). The digital gauge on the A3-31 jointer-thicknesser is only metric. There is no provision for a conversion to imperial, as far as I am aware. In any event, the graduations on the gauge are only in metric. If I needed imperial, there is the depth gauge/marker on the side.

Regards from Perth

Derek
- 26 Apr 2018, 15:58
#1220632
Wednesday was Anzac Day, a public holiday in Australia and New Zealand, and I had a few hours in the workshop to move along with the vertical partitions or dividers.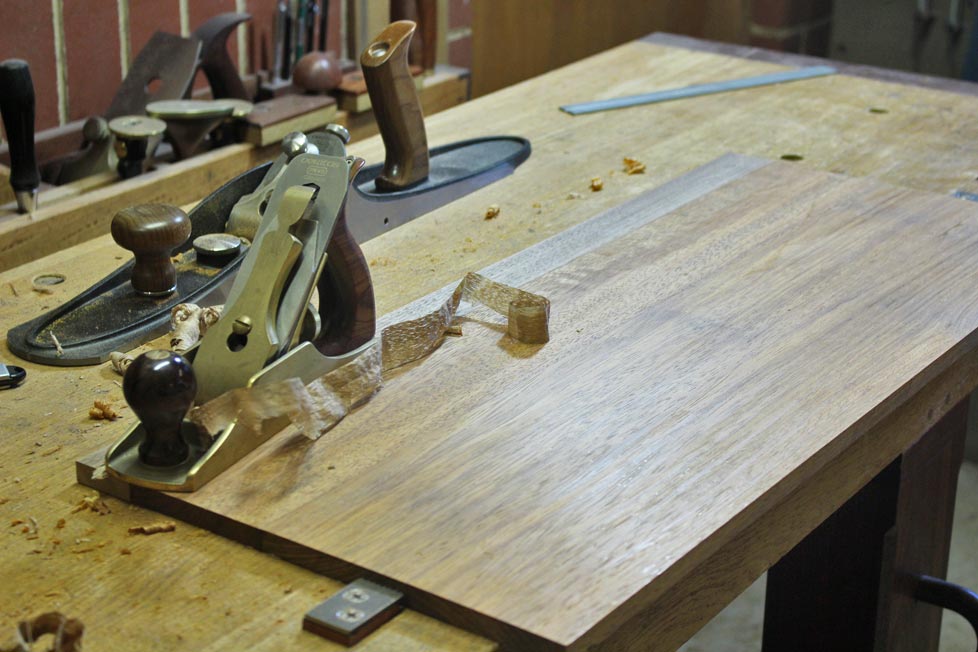 The panels had been thicknessed a little oversize. They need to be brought down to their final thickness of 12mm.
The panels need to be flat. The high spots are marked ...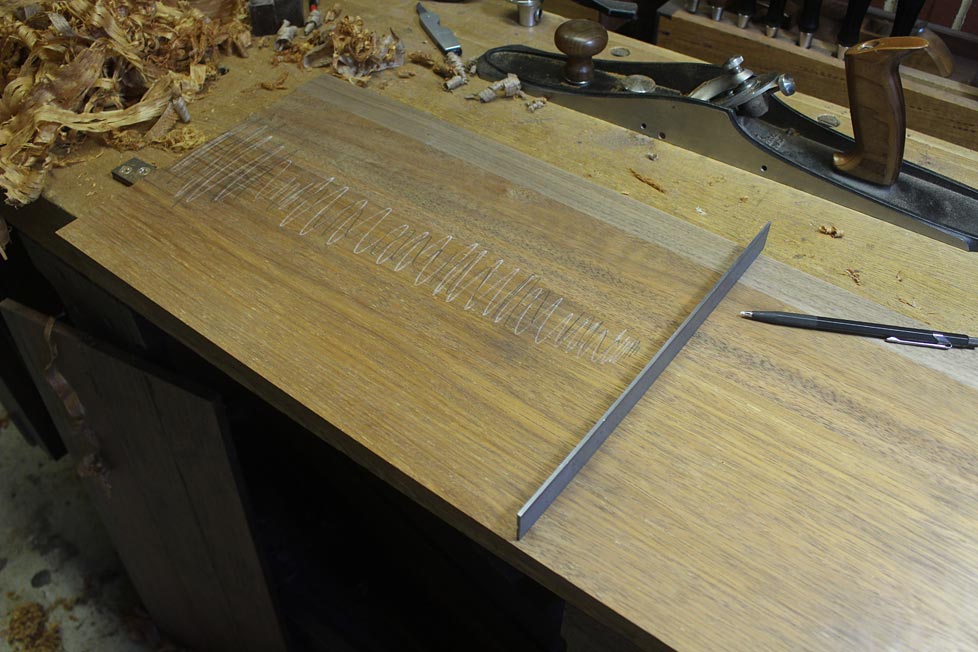 ... and planed away ....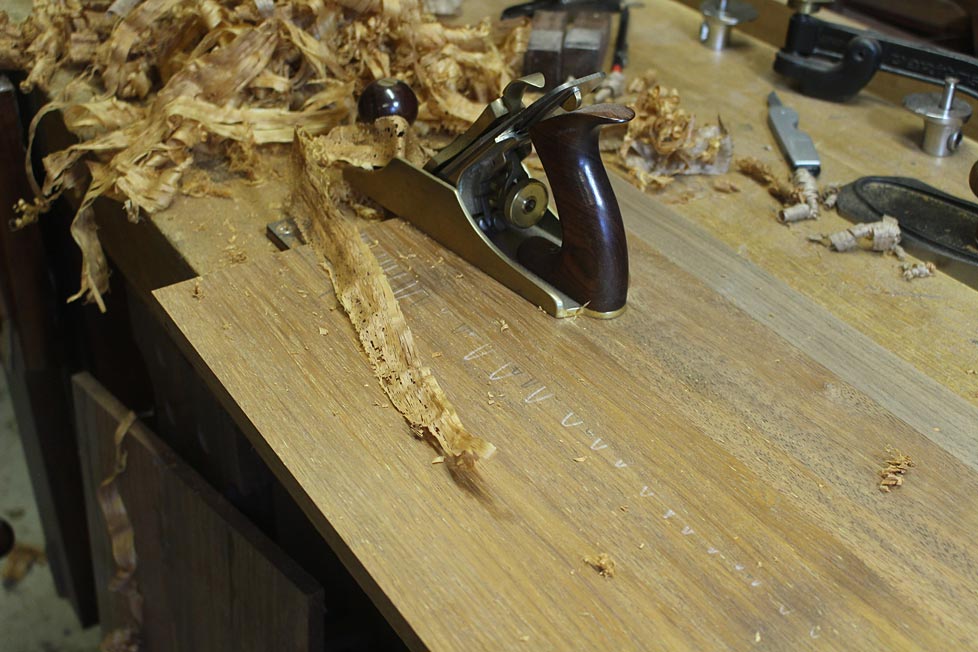 The base and the top of the cabinet is marked out for the stopped dados.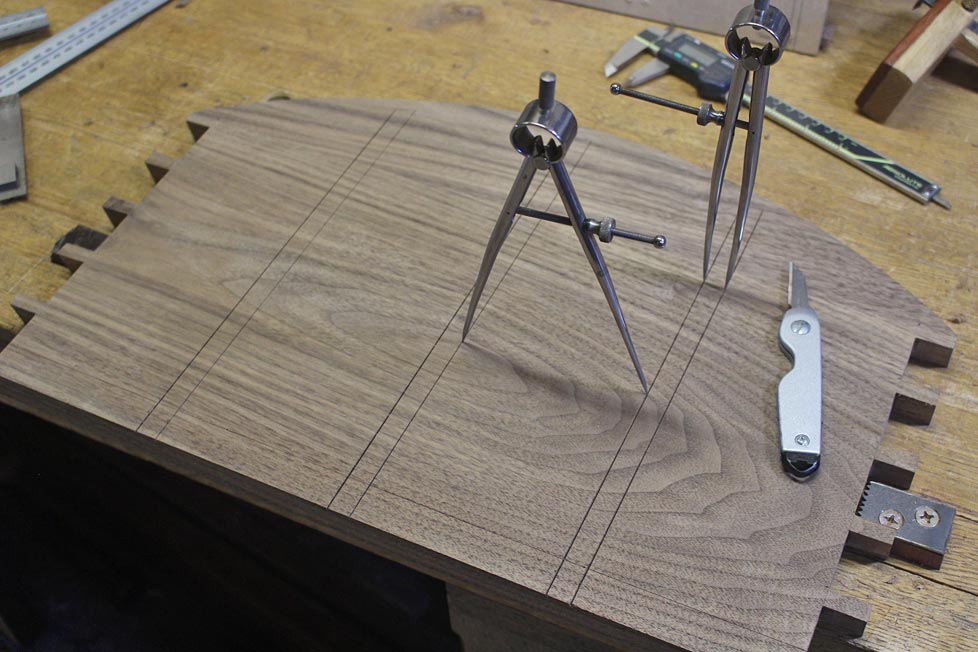 The dados end 10mm from the lower edge. The upper section has a 12mm overhang to take into account. The ends are marked ..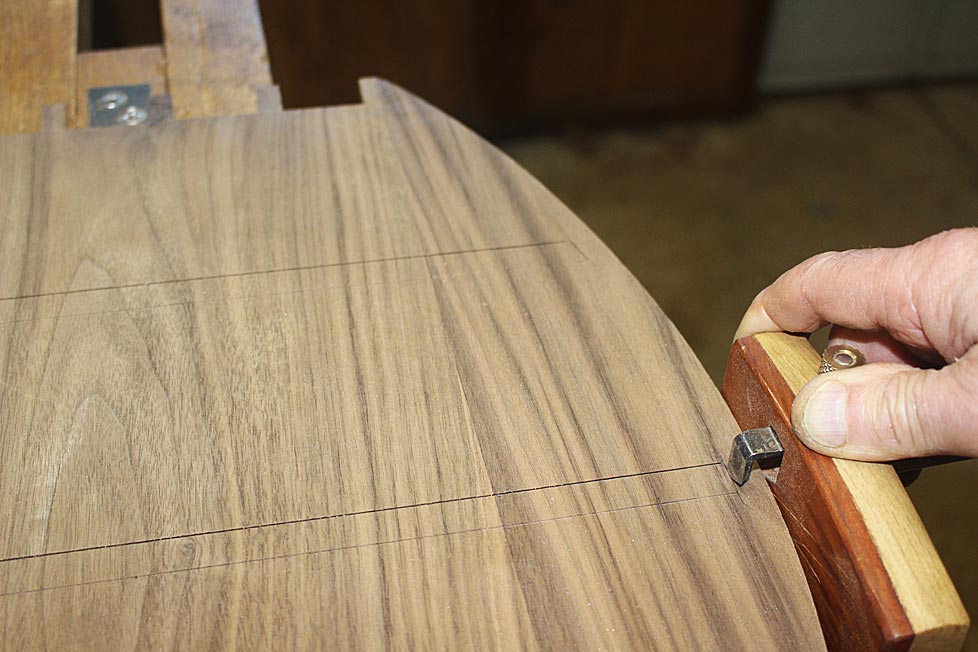 ... and then drilled to a depth of 6mm, which is the depth of each dado.
The sides of the dado are scored deeply with a knife, and a chisel wall is made along the length. This is to guide a saw cut.
The kerf is created with an azebiki saw. This is the traditional Japanese saw for cutting sliding dovetail joints, trenches and slots for sliding Shoji screens.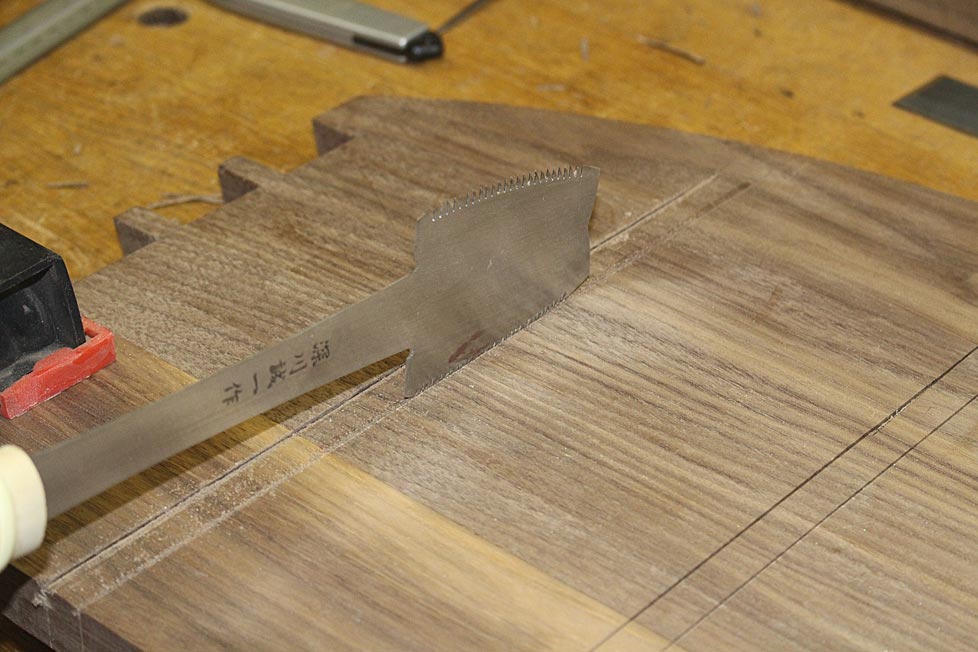 The panel is flipped around, and the kerf is deepened so that it runs the full length ...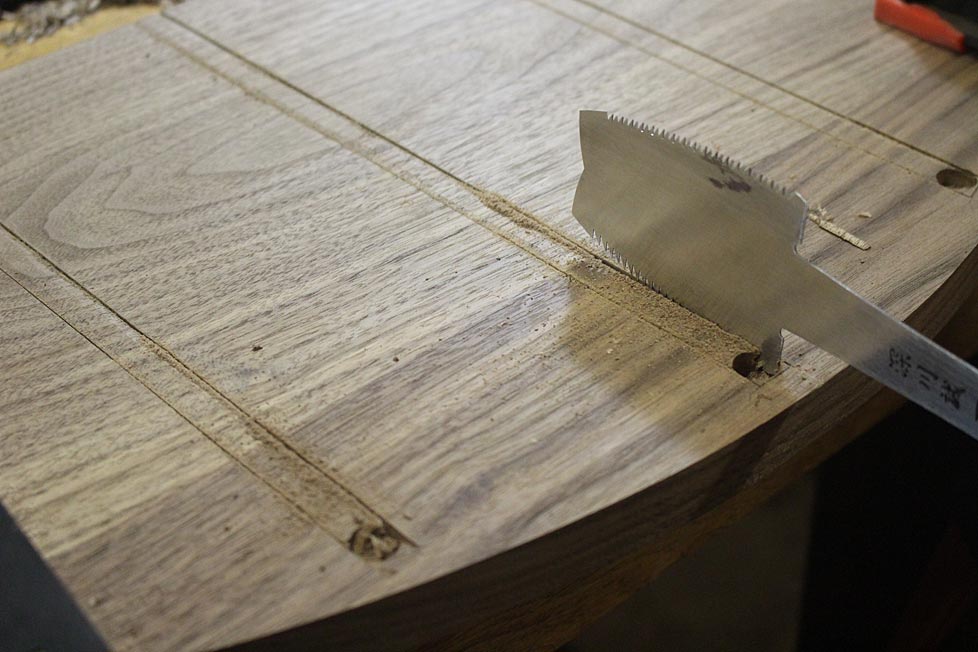 Now zip out the upper layers of waste with a slick or paring chisel ...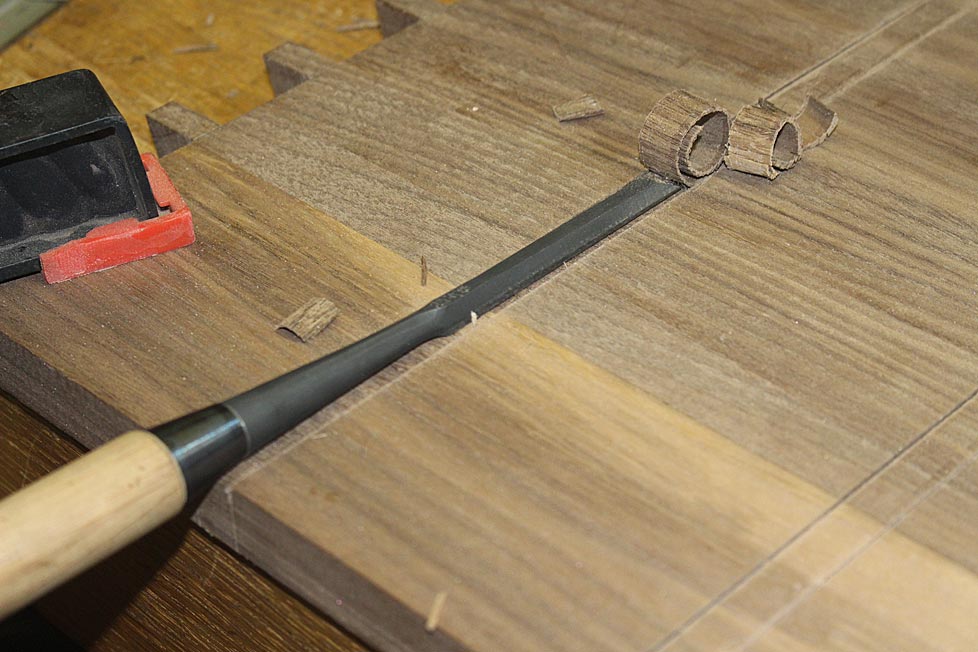 Remove the remainder to depth with a router plane ...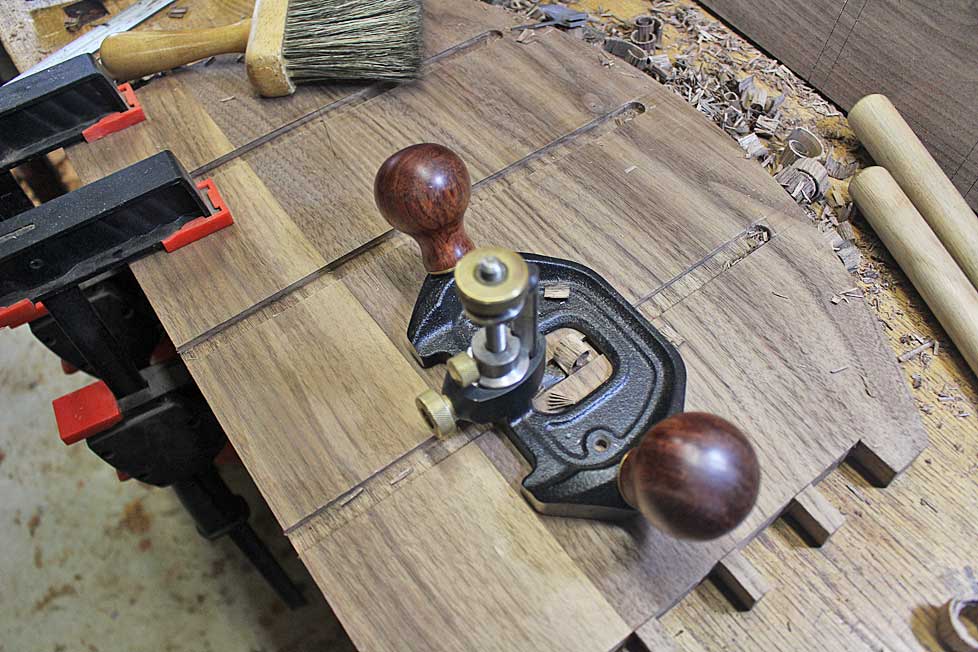 And we are done ...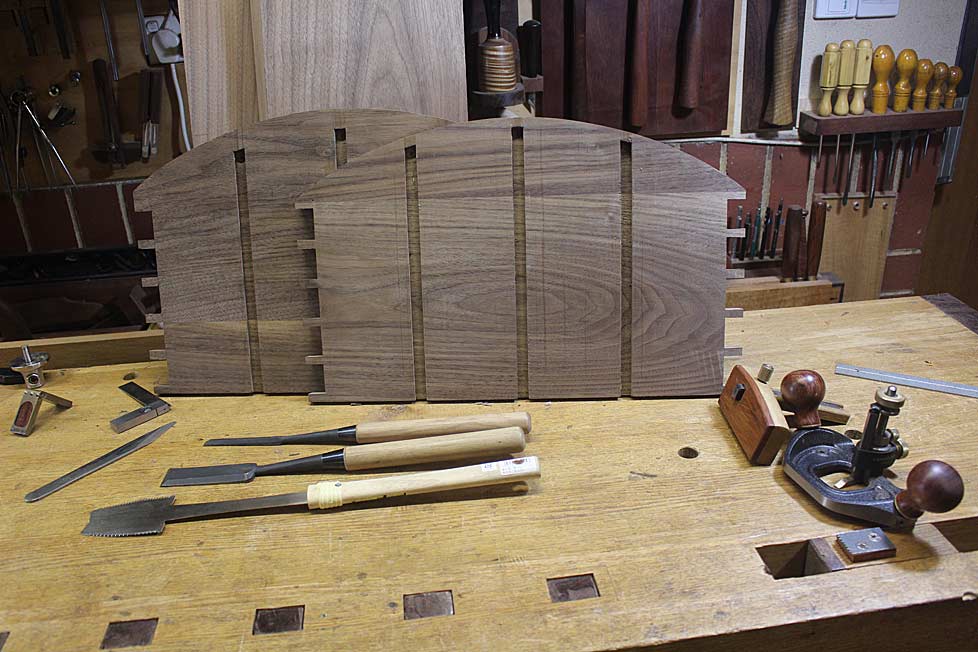 More after the weekend.
Regards from Perth
Derek
- 26 Apr 2018, 16:29
#1220638
wow this is a really nice build, can't wait to see the finished thing
By
DTR
- 27 Apr 2018, 14:49
- 27 Apr 2018, 18:08
#1220903
Also watching with interest!
As an aside, though I've been cutting my dovetails for way more than fifteen years (jig free), last evening, while building a tool tote, after seeing the blue tape in Derek's build, and seeing him use it in transferring DT markings, I thought I would try it. In short, it worked like a champ! The single marking knife stroke, to cut the tape, moved my accuracy up a notch!
Derek needs to start a thread using this method (though he has in the past), and also on the US forums he visits.
- 30 Apr 2018, 15:47
#1221248
We left off with a dovetailed carcase, which had been given stopped dados made with a saw, chisel and router plane. The vertical dividers were made, but yet to be installed. Chest on its side ...
The dividers will be fitted, so ...
The dividers are slid in, and the section ahead of the stopped dado is marked with a knife ...
.. or a cutting gauge ...
.. and then cut away (I prefer a Japanese dozuki for this cut and it is cleaner than off a Western saw) ...
They need to be flush with the curved lower end of the chest (the sides dividers are yet to be shaped to the curve. That will be done later to avoid damage) ...
... while the upper section of the chest has a 12mm overhang ...
Note that all measurements and marking is done from the lower end of the carcase/dividers. This is the reference end.
It is now time to add stopped dados to the dividers. The first step is to begin marking their positions. As before, this is completed with dividers ...
Each drawer is 100x100mm and the drawer blade/divider is 12mm ...
The dado lines are scored across the divider ...
The ruler has a non-slip underside made of 400 grit wet-and-dry sandpaper, a tip I got from Andrew Crawford ...
The insides of the carcase are marked similarly ...
Finally all the stopped dados are marked. There are 40 in all - 10 in walnut and 30 in merbau. The merbau is an extremely hard and brittle wood. It was chosen as a secondary wood as it was cheap and will stand up to any wear from sliding drawers, unlike a soft wood like pine.
The dados are 3mm deep (as 12mm wide). With a 12mm thick panel, and 3mm from each side, there will be 6mm remaining. That is sufficient for structural integrity.
With 40 dados, I decided to use a power router, and built a simple guide ...
The guide is a one-shot job for a 12mm dado. Just place the slot against the lines made earlier, and run the router until it hits the stop ...
This is too easy ...
... and I become complacent, and cut against the wrong line! Fortunatley, this is a simple fix and will not be seen ..
So, at the end of the day the chest is dado-ed to death. The horizontal drawer blades will be fitted next time. This is going to be an interesting time since they will curve to fit at the front.
Regards from Perth
Derek
- 30 Apr 2018, 19:15
#1221271
Great write up as usual. Really enjoy your attention to detail. Looking great.

Mick
It's better to be a little late in this life than early into the next.
- 01 May 2018, 08:39
#1221329
Derek, I am relieved: you're human and there is hope after all...
Seriously, it is going to be a beautiful thing, and as always, you give us a lot of pleasure in just reading and looking (in my case over the breakfast table before a busy day).
Quick question, if I may: I think I can see a simple, straight cutter in the router. You have very nice clean edges to the dados - was that because they were knifed beforehand, or careful choice of speed (movement+RPM), or the way the grain runs, or something else?
I struggle to achieve that much goodness usually, and I was wondering about getting a downcut spiral bit for that sort of task - in shallow grooves & dados it ought to clear well enough and might give me a cleaner finish. I like using hand tools but have to be pragmatic - anything needing prolonged pounding or tight gripping will be too hard on the finger joints after an hour or two, so I reach for power tools more than I really want to...
E.
"When I was younger I could remember
anything
, whether it happened, or not."
Mark Twain
- 01 May 2018, 09:40
#1221338
Hi Eric
I think it a combination of scored outlines, shallow cuts (these dados were only 3mm), a sharp cutter (this was a brand new TCT - I prefer upcut bits but could not find one in 12mm), enough power to drive through the cut without forcing it, and a tight guide keeping the router on track.
Dull cutters require more power and are more easily pulled away by the grain. Upcut bits are better at clearing sawdust which could stall the cutter.
Regards from Perth
Derek